Maple glazed Jalapeño & Cheddar Bavarian Smokies, roasted potatoes with dill and capers, farmers market salad with mustard vinaigrette.
A delectable meal for a hot summer night created by @thechefoutwest
Ingredients
1 pkg Grimms Jalapeño Cheddar Bavarian Smokies
908 g Yukon gold potatoes
1 pack salad greens
1 field cucumber
1 cup baby tomatoes
1 bunch dill
1/2 cup capers
1 cup olive oil
1/2 cup maple syrup
1 tbsp mustard
1 lemon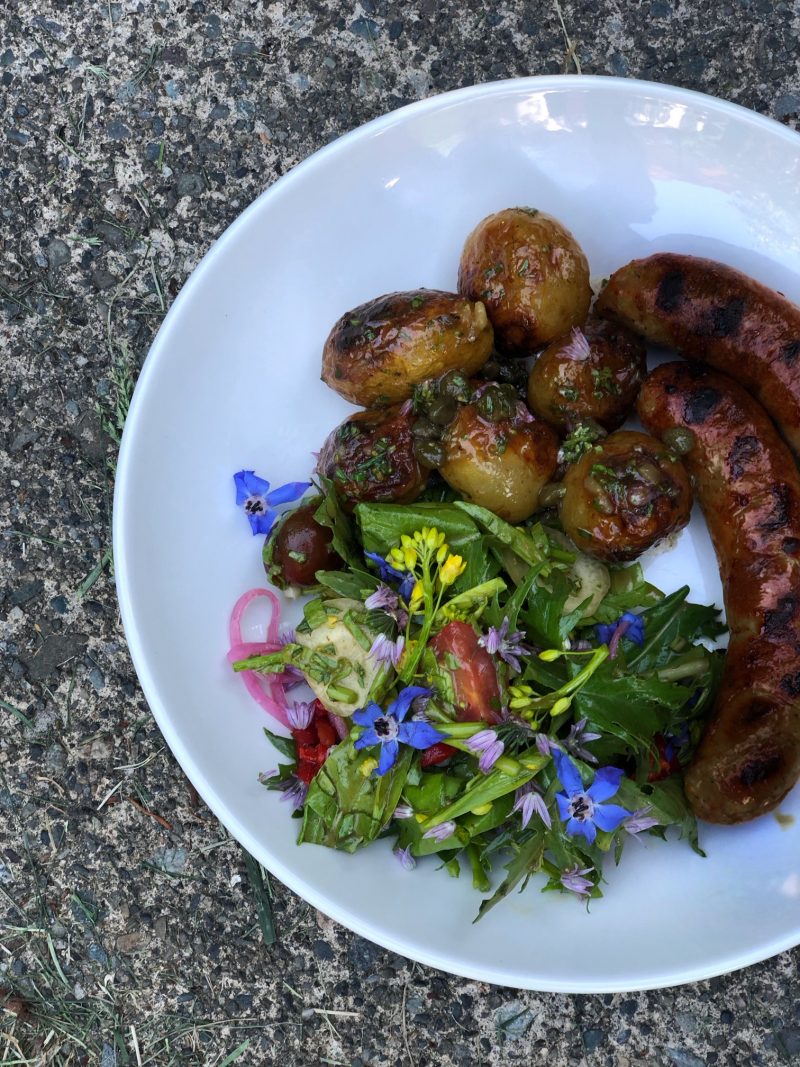 Preparation
Start by placing the potatoes in an aluminum foil pouch, drizzle with olive oil and sprinkle with salt and pepper. Place on the bbq over medium heat or in the oven at 450°F, for around 30-40 minutes.
Meanwhile, slice the cucumber and tomatoes for the salad. To make the dressing, juice one lemon, add the mustard, 1 tbsp of maple syrup, and while whisking, slowly pour in 2/3 cups of olive oil. Season with salt and pepper.
To make the dressing for the potatoes, chop the dill and capers and mix with olive oil, salt, and pepper.
Place the Smokies on the grill and cook for 4-5 minutes per side. Once they are perfectly grilled, brush them with maple syrup for a nice glaze. When the potatoes are golden and cooked through, toss them in the caper dressing. Mix the salad greens with the mustard vinaigrette and serve!