Ingredients
Sando
3 strips Grimm's Double Smoked Side Bacon
3 slices Grimm's Black Forest Ham
1 egg
Beer Biscuit
2 cups all-purpose flour
2 tbsp baking powder
1/2 tsp salt
1/2 tsp pepper
1/2 cup butter
1/2 cup buttermilk
1/2 cup of your favourite beer
Beer-Braised Grimm's Farmers Sausage Rounds
1 pkg Grimm's Farmer Sausage Rounds
947 ml of your favourite beer (about 2 regular cans)
1 onion
1 carrot
1 celery
1 tomato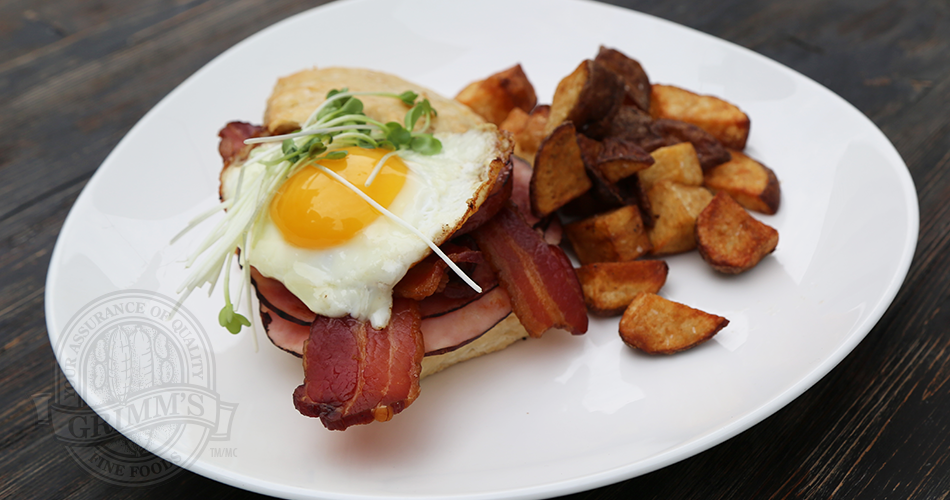 Preparation
Beer Biscuit
Mix all dry ingredients.
Mix all wet ingredients.
Combine the two, hand mix, the dough should be soft and moist.
Turn dough onto a lightly floured surface, roll until 1/2 inch thick.
Cut into 4 x 4 inch squares.
Bake in an oven preheated to 425°F until golden brown, about 10-12 minutes.
Beer-Braised Grimm's Farmers Sausage Rounds
Place all items in a pan and place in the oven at 275°F for 2 1/2 hours.
Sando
In a hot cast iron pan, crisp up 3 strips of Grimm's Double Smoked Side Bacon.
Using the same pan heat 3 slices of Grimm's Black Forest Ham and 2 pieces of the braised Grimm's Farmers Sausage Rounds.
Place on toasted biscuit and top with a sunny side egg. 
Serve alongside roasted potatoes, hash browns or fruit