Ingredients
4 Grimm's Chorizo Sausage, casings removed and meat crumbled
1 yellow onion, finely chopped
10 cherry tomatoes, cut in half
4 cups spinach, cut into bite-size pieces
8 eggs
3 cups whole milk
2 tsp grainy dijon mustard
1 tsp salt
1/4 tsp fresh ground pepper
1 cup sharp cheddar cheese, grated
1/4 cup parmesan cheese, grated
day-old ciabatta baguette, cut into 1 inch cubes, about 4 cups.
butter, for pan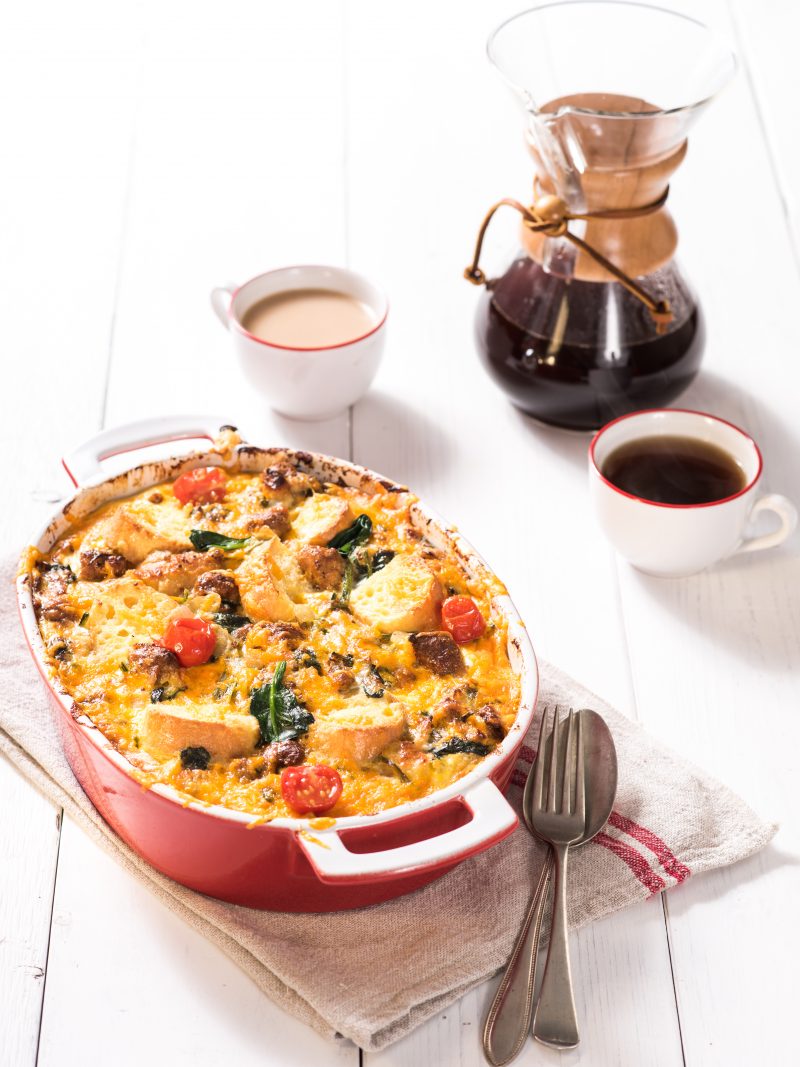 Preparation
Grease a large baking dish (9×12 inches) with butter.
Place crumbled sausage pieces in a large frying pan and cook over medium heat until golden brown, about 5-7 minutes.  Once cooked, remove from pan with a slotted spoon and set aside on a paper towel-lined plate. Drain all but 1 tbsp of fat from pan.
In the same pan, cook onion until soft and golden brown, about 6 minutes.  Add spinach and cook until it wilts about 2 minutes. Remove from heat and set aside to cool.
In a large bowl, beat eggs with milk, dijon, salt and pepper.  Mix in cheeses, bread, cooked sausage, and spinach mixture.  Pour into buttered pan and cover with plastic wrap.
When ready to bake your savoury bread pudding remove from fridge and preheat oven to 350°F.  Bake for 1 hour until cooked thoroughly, let sit for 5 minutes before serving. 
Cut or scoop out individual servings and enjoy!  
Tastes even better the second day!