Ingredients
Grimm's Festive Ham shank 
2 cups ham, cubed 
2 stalks celery, diced fine 
2 carrots, shredded 
1 medium onion, diced fine 
3 garlic cloves, diced fine 
2 tbsp margarine (or butter)
2 bay leaves 
2 cups split peas, rinse well
4 cups gluten-free chicken broth 
5 cups water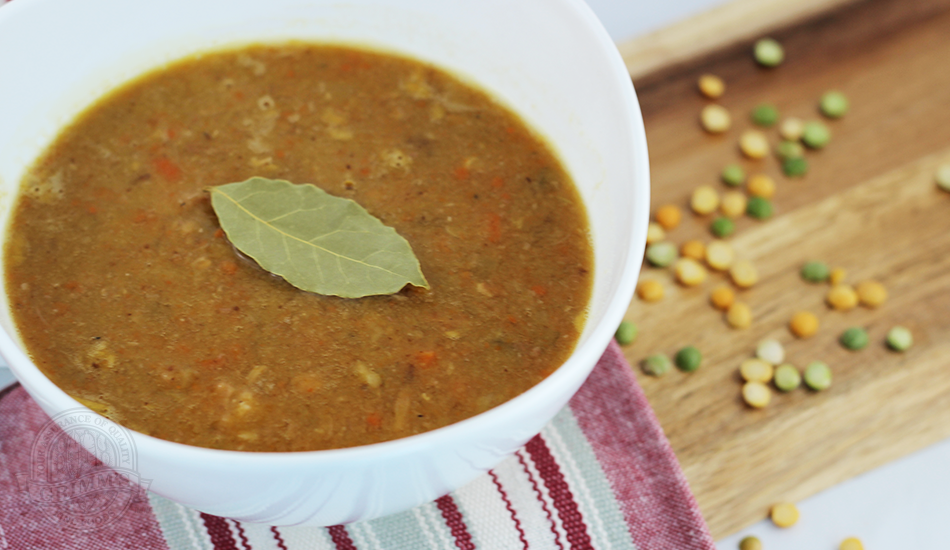 Preparation
In a large pot, sauté butter, celery, onion, garlic and ham bone for about 3-5 minutes until onion is clear.
Add rinsed green split peas, chicken stock, water and bay leaves.
Bring to a boil and then simmer with lid slightly open for about an hour and a half, or until the peas are fully cooked.
Add shredded carrots and simmer. with the lid off for about an hour. Skim off foam.
Remove bay Leaves and bone then blend slightly with a hand blender (if you don't have a hand blender you can whisk it to smooth it a bit or just leave in with more texture).  
Add ham cubes, and ham from bone; season with salt & pepper to taste; simmer with lid off for another 30 minutes or more. (The longer you simmer it with lid off the thicker your soup will be)  Skim foam again if there is any.
Stir and Enjoy!
Tastes even better the second day!