Ingredients
2 pkgs Grimm's Andouille Sausage, casing removed and cut into bite-size pieces
10 large prawns, rinsed and deveined 
227 g mussels, scrubbed and debearded 
1 large yellow onion, finely chopped 
3 garlic cloves, chopped 
4 tbsp olive oil
400 g can of whole tomato with liquid
2 cups chicken stock
1/2 tsp saffron thread 
1 tsp Spanish paprika 
salt and pepper
3 cups short-grain rice, washed and drained
1 tbsp flat-leaf parsley, chopped
​1 lemon, cut into wedges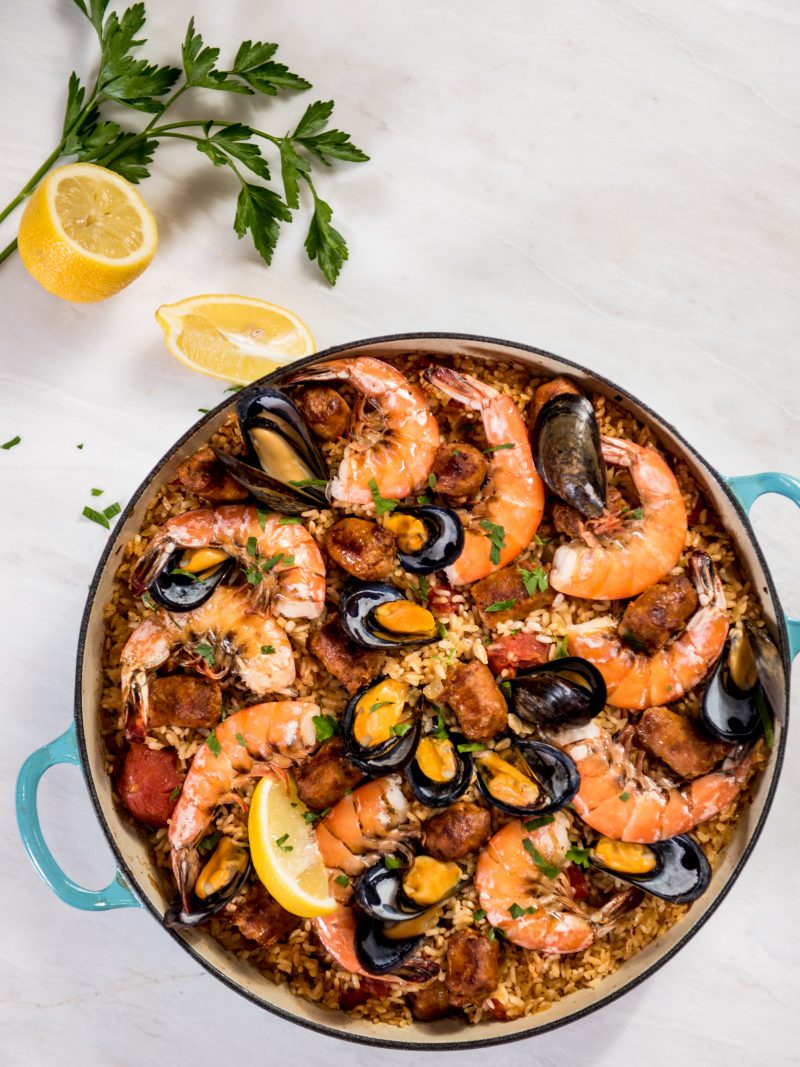 Preparation
Place prawns and 1 cup water in a medium pot, bring to a simmer and cook over medium heat until the prawns turn light pink, for about 2 minutes. Cool in the cooking liquid and set aside.
Warm 2 tbsp of olive oil over medium-high heat and sauté 1/2 onion and 1/2 garlic for about 7 minutes or until translucent. 
Add whole tomatoes with liquid and the cooking liquid from the prawns, roughly crushing the tomatoes with a wooden spoon and cook for another 5 minutes.
Set aside the cooked prawns.  Add chicken stock, saffron, paprika, a pinch of salt and pepper, and simmer for 20 minutes.
Preheat the oven to 350°F, in the meantime, warm up the rest of the olive oil over medium-high heat and sauté the rest of the onion and the garlic for 5 minutes or until soft.
Add sausages and cook for 7 minutes or until golden brown, then add rice and cook for 5 minutes or until translucent. Add the tomato mixture, stir well, and bring to a boil. 
Remove from the heat and bake for 15 minutes with a lid on.
Add the cooked prawns and mussels and bake with a lid on for another 7 minutes or until the mussels are open.
Remove the lid and cook another 10 minutes. Take the pan out of the oven and let sit for a few minutes.
Garnish with lemon and fresh parsley.  Serve hot.