Ingredients
Torta
300 g Grimm's Mozzarella cheese, thinly sliced
400 g Grimm's Old Fashioned ham, thinly sliced
1 tbsp olive oil
1 tbsp unsalted butter
1 jar roasted red peppers (350ml), drained
1 small onion, finely chopped
1 garlic clove, finely chopped
4 packets chopped spinach (300 g each), defrosted and squeezed dry
1/4 tsp freshly grated nutmeg
sea salt and freshly ground black pepper to taste
1 egg beaten
2 tbsp fresh breadcrumbs
30 g freshly grated parmesan
675 g frozen, rolled puff pastry, defrosted
egg wash, made from egg yolk beaten with 2 tsp with water
Egg Mixture
12 large eggs
1 1/2 tbsp unsalted butter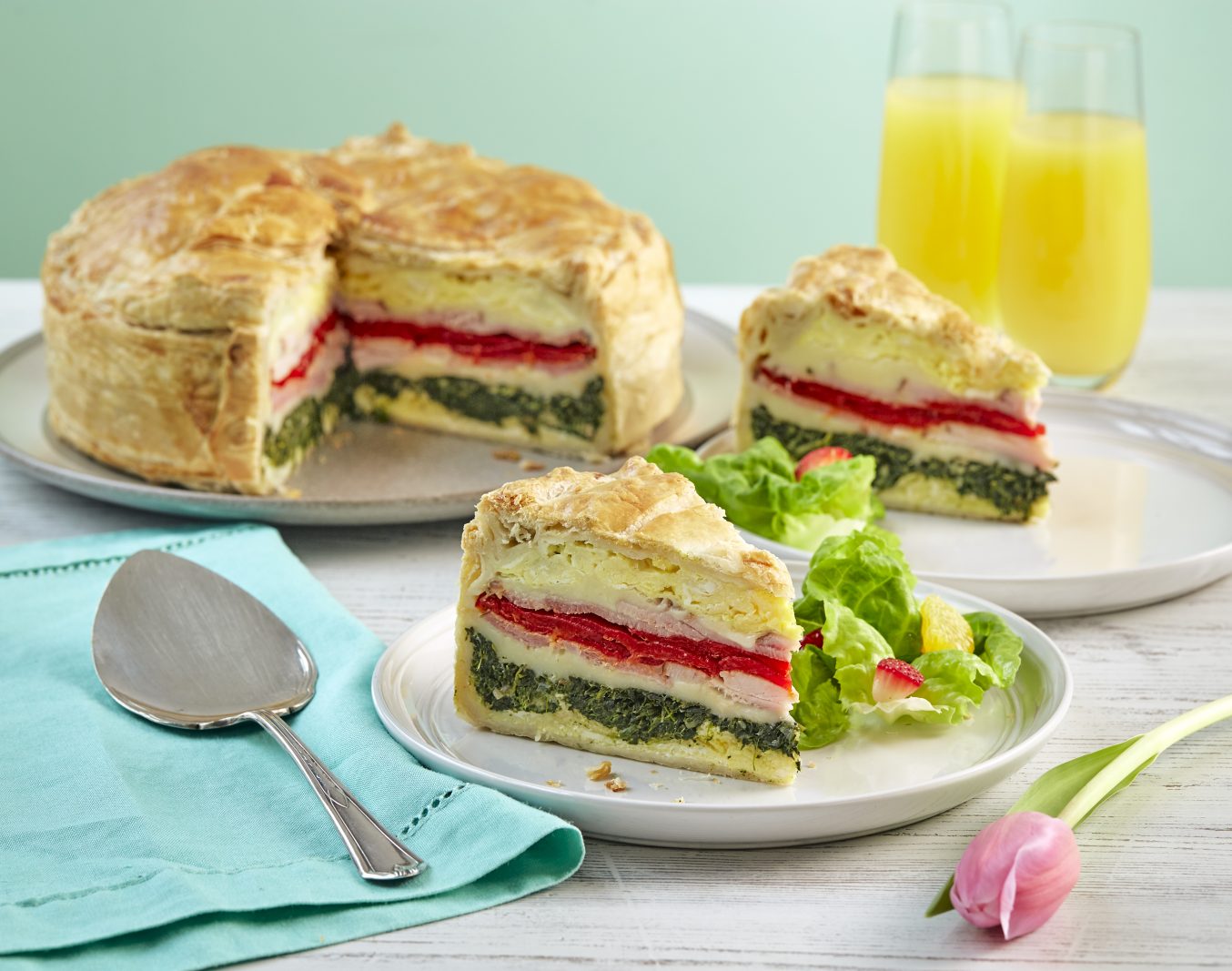 Preparation
Omelettes
Preheat oven to 375°F. Heat oil and butter in large sauté pan and add onion and garlic to pan, cook two to three minutes. Squeeze excess moisture from spinach, add to pan, cook for approximately five minutes, add nutmeg, salt, pepper to taste. Remove to bowl, stir in egg, breadcrumbs and 30 g parmesan, set aside to cool.
Beat the eggs. Heat half of the butter in 9 inch sauté pan and make flat omelette with half mixture, carefully place on a plate. Make sure the eggs are still loose and not too cooked, as you will be baking them a second time. Make another omelette with remaining butter and eggs, place on plate, set aside to cool.
Torta Pastry
Unroll the pastry and cut out 2 circles by tracing the bottom of the springform pan. Make sure the circle is about 1/2 an inch wider than the bottom of the pan. Spray the entire inside surface of the springform pan with cooking spray. Place one of the circles on the bottom of the pan and brush with the egg wash.
Cut out strips of the pastry, about 1/2 inch deeper than the sides of the pan, to line the sides of the torta. Create the sides of the torta, pressing together the pastry and sealing the edges together with the egg wash.
When all ingredients have cooled, begin to layer the torta.
Place one omelette in base on top of the pastry. Spread with all of the spinach, then half cheese, then half ham and all the red peppers. Repeat layering in reverse, using remaining ham and cheese; finish with the other omelette.
Place the remaining pastry circle on top of the filling, brush with egg wash around edges. Fold over extra dough from the sides and make sure edges are tightly sealed. Pinch the pastry between thumb and forefinger. Glaze with egg wash and with the point of knife mark decorative pattern on top, try to avoid cutting through the pastry. Decorate with pastry offcuts if you like.
Bake for approximately one hour or until the crust is deep golden. Remove and let settle at least 20 minutes. Serve either warm or at room temperature. Cut into wedges.