Cheesy. Chorizo. This Holiday Hot dip from MasterChef Canada Finalist Chanelle Saks really is perfect for those cold winter nights – it packs some heat too so you'll be warmed from the inside out!
Ingredients
1- 300g package of Grimm's Chorizo, diced
1 tbsp olive oil
2 gloves garlic, minced
½ tsp of red pepper flakes (or more for added heat)
1 red pepper, deseeded and diced
1/4 cup dry white wine
1 brick plain cream cheese, cubed
1 cup sour cream
1 cup Medium-Old Cheddar, grated
1 cup Mozzarella, grated and divided
Salt and Pepper to taste
Topping
1/4 cup panko bread crumbs
1/4 tsp seasoning salt
Parsley, chopped
Crispy Tortilla Chips
1 Package of Grimm's Corn Tortillas, cut into fours
Vegetable oil, for frying
Seasoning salt to taste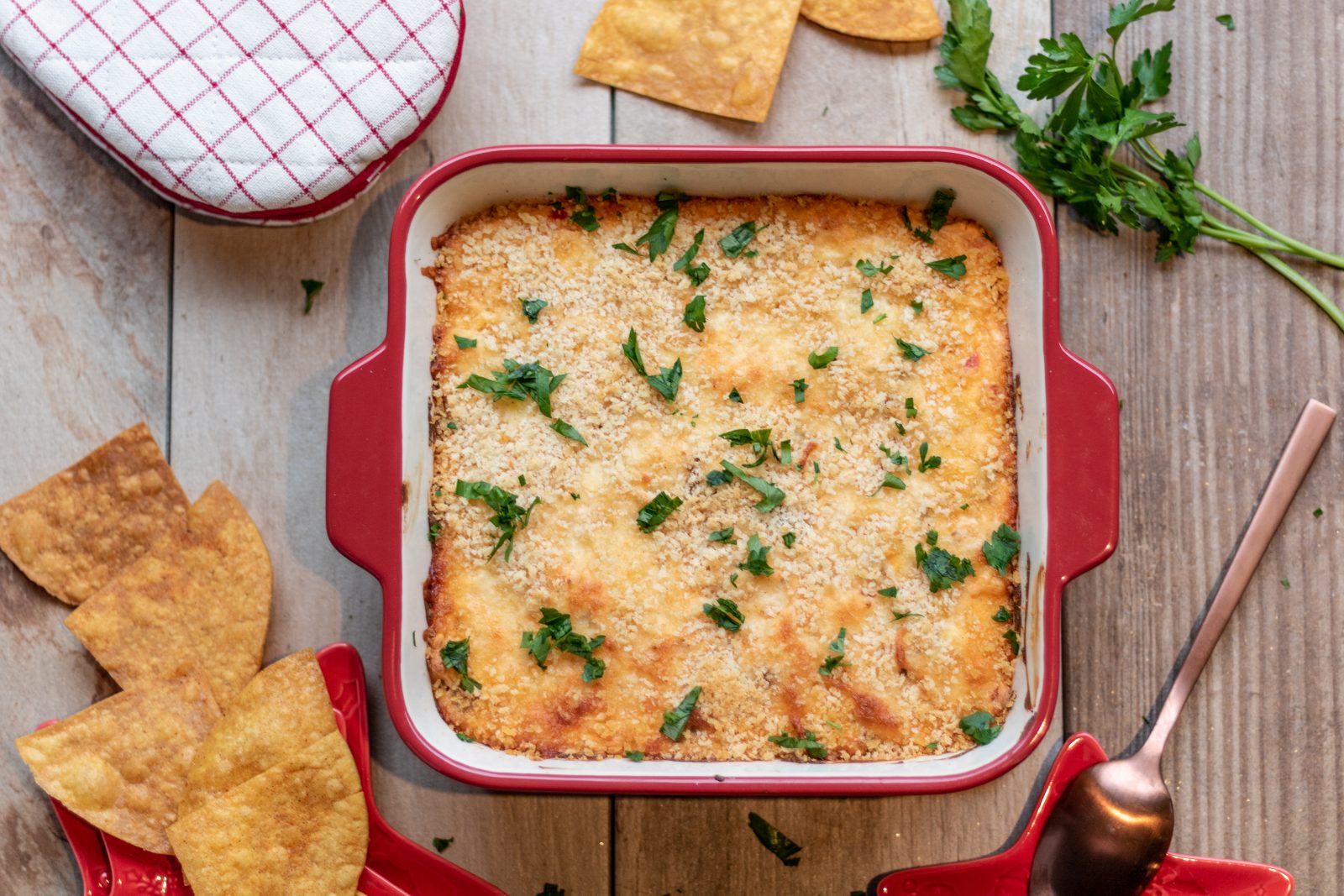 Preparation
Preheat the oven to 350F.
In a large sauté pan, heat the olive oil over medium heat and add the garlic, red pepper flakes and diced peppers. Cook until the garlic is fragrant and peppers are lightly softened, about 3-5 minutes. Add the chorizo and cook until cooked through completely, about 5-7 minutes.
Once the chorizo is cooked through, deglaze the pan by holding the pan off the heat, pouring the white wine and allowing it to cover the base of the pan before returning it to the heat. Reduce heat to medium-low and allow the wine to cook off slightly, about 3-5 minutes.
Once some of the liquid has evaporated, add the cream cheese a couple cubes at a time, followed by the sour cream, and grated cheese (adding about 1/2 cup at a time). Mix well until the cream cheese is fully melted and all the ingredients are well combined. Season with salt and pepper.
Using a spatula, spread the dip into the baking dish.
To make the topping, in a small mixing bowl, combine the panko and seasoning salt and set aside. Top the dip with the remaining mozzarella cheese followed by the seasoned panko.
Place in the preheated oven and bake for about 20 minutes, or until the top is golden brown.
Meanwhile, to make the crispy tortilla chips, pour 1 cup oil into a medium skillet to a depth of 1/8 to 1/4 of an inch. (Make sure you are working with a completely dry pan or the oil will sputter as it heats.) Heat the oil on medium high heat until a small piece of tortilla placed in the oil sizzles, about 350°F. If a small tester piece of tortilla browns too quickly, the oil is too hot. Remove the pan from heat to let the oil cool a bit before continuing.
Fry for approximately 2 minutes until the chips just begin to colour and they are crispy. Place on a rack or paper-towel lined plate and sprinkle with seasoning salt to taste.
Remove the dip from the oven and sprinkle with parsley; enjoy hot!