Back to school is in full swing in households across Canada. Here's a delicious fall recipe from Michael Varga, @VargaCooks, that's quick, easy, and fun for the whole family! Michael recommends this for those nights you're trying to get to dance, hockey, or even doggie obedience class!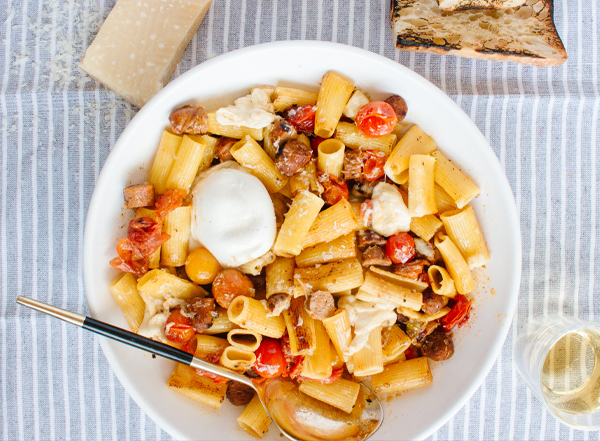 Ingredients
1 pack Grimm's Chorizo Sausage 
1 pint baby tomatoes 
1 ball burrata cheese
Fresh herbs of choice
I like basil, Italian parsley, or thyme 
500 grams of your fave pasta 
Olive oil 
Parmesan cheese to taste 
Salt to taste 
Preparation
Bring water to a boil in a medium-sized pot. Once boiling add a tbs of kosher salt and a glug of olive oil. Drop the pasta in and cook as directed to al dente.
While pasta is cooking, add 2 tbs of olive oil into a pan on medium-high heat. Add sausages and tomatoes into the pan. Cook for about 3 minutes on one side, flip chorizo and cook for 3 minutes more. Reduce heat and cover. Cook covered for another 7-8 minutes. Until sausage is fully cooked and tomatoes are soft but still intact. 
Take sausages out and slice to your desired size. Mash half the tomatoes in the pan,  leave other half of the tomatoes whole. 
Add Chorizo back into the pan. Mix in the cooked pasta. Then nestle in the burrata 

cheese making a layer on top. 

Using your oven-proof pan, bake in a preheated oven at 425 degrees until cheese is melted. Approximately 4-5 minutes
Garnish with fresh herbs, grated Parmesan, and some nice salt!