Vancouver Blogger @AheadOfThyme joins us for #OwnTheGrill, creating a simple summer meal using our Sizzlin' Original Smokies and a little Southern inspiration.
Ingredients
1 pkg of Grimm's Sizzlin' Original Smokies, sliced
1 lb tiger prawns (or jumbo shrimp), peeled and deveined
2 tbsp old bay seasoning (or any seafood seasoning blend), divided
2 medium ears of corn, husks removed and cut crosswise into 2 inch pieces
10 baby potatoes, halved
1 lemon, quartered
5 cloves garlic, crushed
1/2 cup melted butter, divided
3 tsp parsley, freshly chopped, divided
1 tbsp olive oil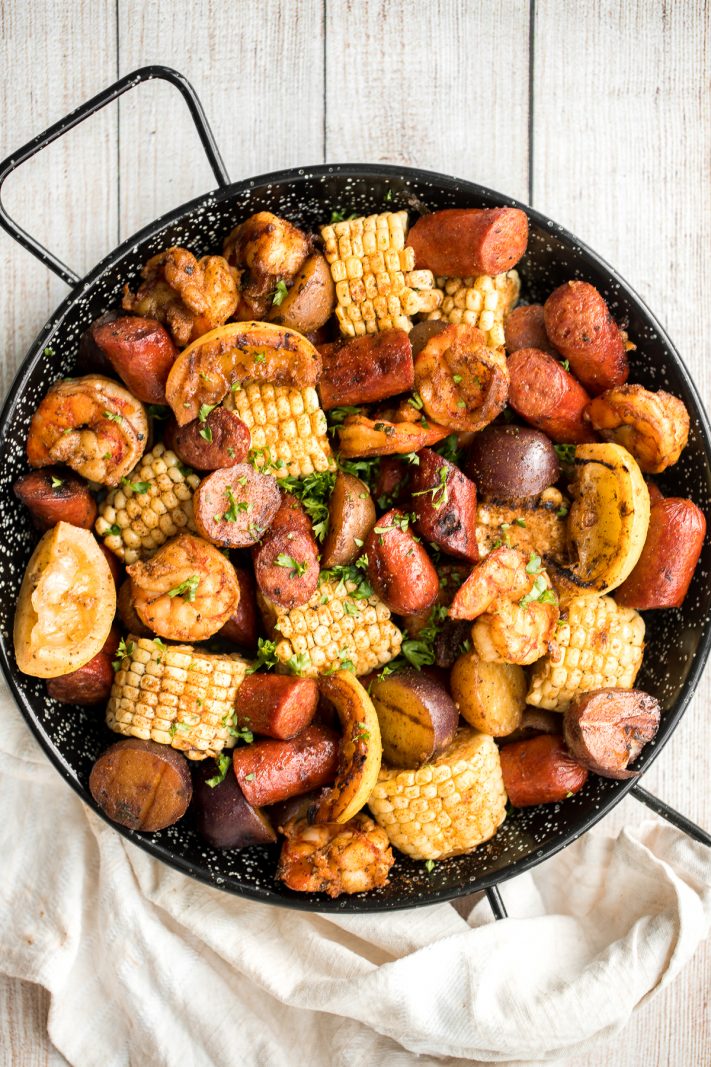 Preparation
In a medium bowl, combine prawns and 1 tbsp old bay seasoning. Let it sit for 5 minutes.
Meanwhile, in a large bowl, combine corn, baby potatoes, sausage, lemon, and garlic. Add in the seasoned shrimp. Add 1/4 cup melted butter, 1 tsp parsley, and remaining tbsp of old bay seasoning. Toss together and let it sit for 10 minutes.
You can grill on either a grill pan or an outdoor barbecue grill.
To cook on a grill pan: Brush grill with olive oil and heat on medium high heat. Add items on the grill, and gently brush the remaining butter on top. Grill for 5 minutes until you see some distinct grill marks. Then, reduce heat to medium, flip the items over, and add 1 cup of water. Cover with aluminum foil, and simmer for 15 minutes.
To cook on barbecue grill: Brush grill with olive oil or spray with cooking spray. Add items on the grill, and grill for a few minutes until you see some distinct grill marks. Remove items from the grill, and place into a large disposable aluminum tin, add in remaining butter, and cover with aluminum foil and seal the edges (OR divide on four 12 inch sheets of aluminum foil, and divide the remaining butter amongst them. Fold over to create a pocket and seal the edges by rolling them up). Place aluminum pan or foil packets on the grill and cook for 15-20 minutes, until everything is cooked through.
Serve with remaining chopped parsley on top and old bay seasoning.