We believe in grilling at all hours of the day!
These Grilled Breakfast Quesadillas from loveinmyoven are a delicious way to start the day, and are completely gluten-free thanks to the use of our Gluten Free Rice Tortillas.
Ingredients
4 Grimm's Sizzlin' Cheddar Smokies
4 Grimm's Gluten Free Rice Tortillas 
2 tbsp unsalted butter, divided
1/4 cup onion, diced
1/2 bell pepper, diced
4 eggs
2 tbsp milk 
1 tbsp green onion, diced 
1 cup cheddar cheese, shredded
1 cup mozzarella cheese, shredded
Optional sour cream and salsa for serving.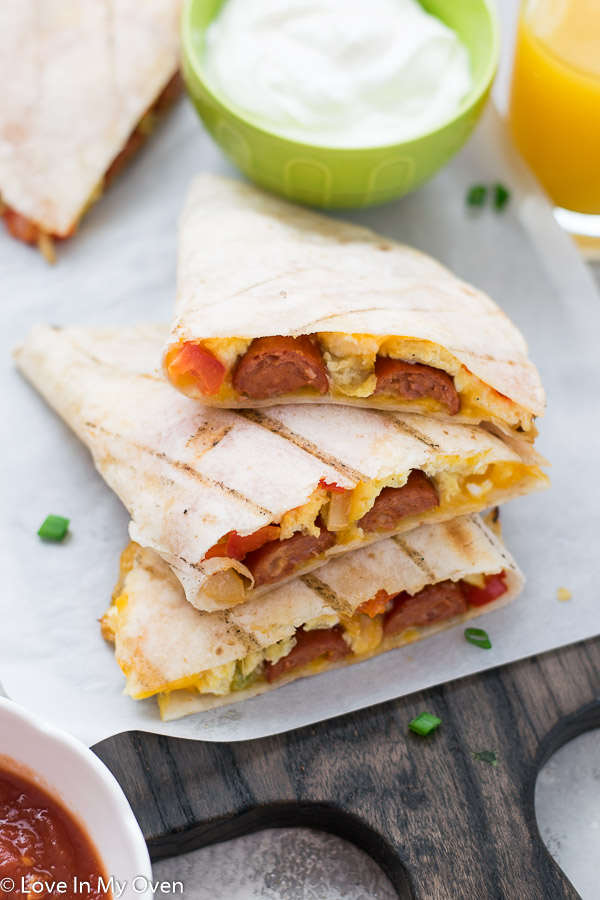 Preparation
Preheat the grill to medium high and cook the cheddar smokies until slightly crispy and just beginning to burst open. Remove from heat and allow them to cool for a few minutes before slicing them in half lengthwise. Set aside but keep the grill hot.
While the smokies are grilling, add 1 tbsp of butter to a frying pan and allow it to melt. Add the onion and bell pepper and sauté for a 5 minutes, or until softened. Remove the softened vegetables to a plate and add the second tablespoon to the pan, placing it back over the heat. In a small bowl, whisk together the eggs and milk with a fork. Empty the eggs into the pan and stir from time to time with a spatula, until the eggs are cooked and fluffy. Stir in the diced green onion to the eggs.
On one half of a tortilla, sprinkle a handful of cheddar and mozzarella cheese. Add a quarter of the onions and peppers, a quarter of the scrambled eggs, and top with 2 smokie halves. Add another handful of cheese, scattering it around. Fold the bare half of the tortilla gently over the loaded up half and carefully place the quesadilla back on the grill, flipping it over after a few minutes and cooking for another few minutes, until the cheese is melted. Cut in half and serve immediately, with sour cream and salsa.
Leftover quesadillas can be kept in the fridge for 2-3 days, in an airtight container, and either microwaved or warmed in the oven.
If making these quesadillas over the fire, use a metal grill over the fire to finish grilling them at the end.