Our Bacon and Cheddar Bavarian Smokies takes the classic flavours of a traditional Cobb Salad and adds the crispy char of the grill.
Ingredients
1 pkg Grimm's Bacon and Cheddar Bavarian Smokies
1 large head green leaf lettuce, halved (5 cup yield)
4 hardboiled eggs, diced
1/2 cup Medium Cheddar Cheese, grated
2 vine-ripened tomatoes, halved
2 firm avocados
2 ears of corn, whole and cleaned
6 tbsp oil and some for grilling
3 tbsp red wine vinegar
1 tbsp dijon mustard
1 tsp honey
1 garlic clove, minced
1 pkg Grimm's Cheese Tortilla Wraps, grilled
salt and pepper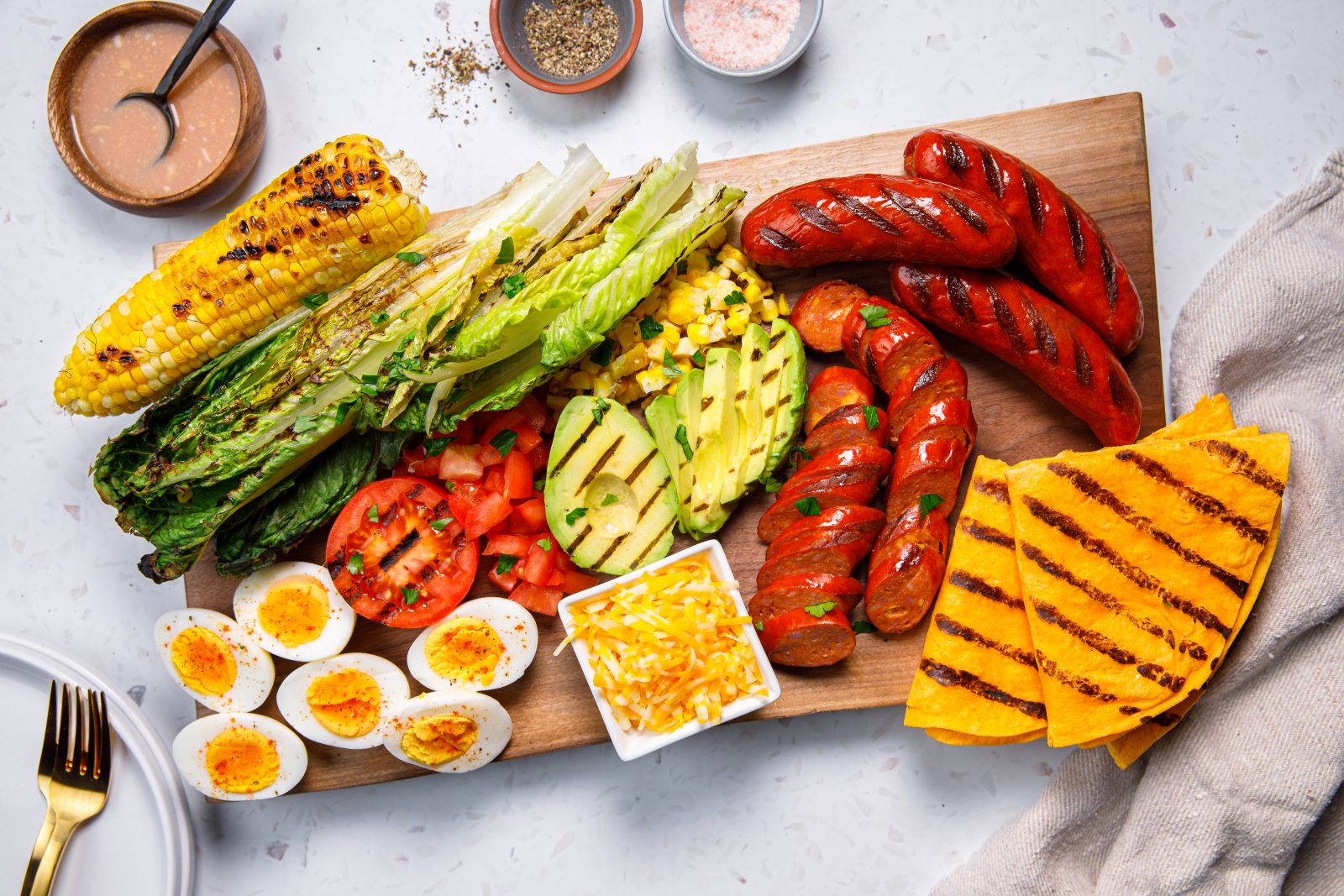 Preparation
Preheat grill. In a small bowl, combine 6 tbsp oil, red wine vinegar, dijon, honey, and garlic. Season with salt and pepper and set aside for later.
Toss lettuce halves with 2 tsp oil, salt and pepper. Toss the tomato halves with 2 tsp oil, salt and pepper. Split the avocado, remove the seed, and keep it in the skin. Season the inside of the avocado with oil, salt and pepper. Toss the corn with 2 tsp oil, salt and pepper
Place the smokies and corn on the grill, char the outside, and cook them all the way through. Now, on high heat, char the inside of the lettuce, tomatoes, and avocados. Keep them mostly uncooked, you just want the charred flavour.
Remove all the ingredients from the grill. Slice the smokies into half-moons, dice the tomato, remove the corn from the cob, and slice the avocado. Now it's time to assemble.
On a large platter, place the charred lettuce, followed by a row each of tomato, hardboiled egg, sliced smokies, cheddar, avocado, and finish it with the corn. Drizzle with the red wine vinaigrette and serve with grilled tortillas.