This gourmet style quesadilla, made with our Organic Multigrain Tortillas and served with fresh avocado and pea guacamole, is packed with flavour and can be served as an appetizer or main course.
Ingredients
Quesadillas
4 Grimm's Organic Multigrain Tortillas
2 tbsp, plus 1 tbsp olive oil
250 g mixed mushrooms
2 leeks, white and green parts, sliced
1 tbsp fresh thyme, finely chopped
1/4 tsp each salt and pepper
1 cup shredded fontina cheese
1/2 cup goat cheese, finely crumbled
Avocado & Pea Guacamole
1 ripe avocado, peeled and diced
1/2 cup frozen peas, cooked and cooled
1/4 cup lime juice
1 garlic clove, minced
1/4 tsp cumin
1/2 tsp each salt and pepper
2 green onions, thinly sliced
1 jalapeño pepper, seeded and diced
2 tbsp fresh cilantro, finely chopped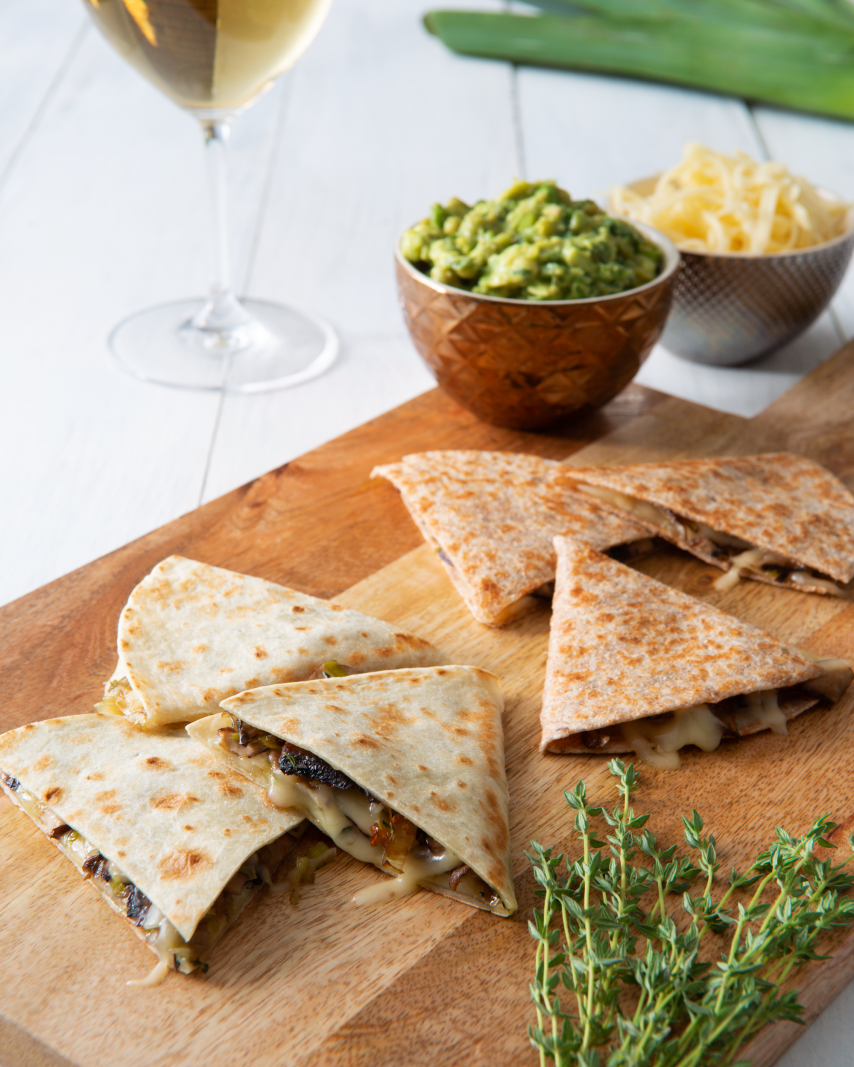 Preparation
Avocado and Pea Guacamole
In a food processor, pulse together the avocado, peas, lime juice, garlic, cumin, salt, and pepper until combined but still chunky. Stir in green onions, jalapeño, and cilantro.
Quesadillas 
Heat 2 tbsp olive oil in a large skillet set over medium-high heat. Cook mushrooms, leeks, thyme, salt, and pepper for 8 to 10 minutes or until mushrooms are golden and leeks are tender.
On half of each tortilla, sprinkle the fontina cheese first, followed by the mushroom mixture and goat cheese. Fold each tortilla over to enclose filling.
Brush remaining olive oil over the skillet and set over medium heat. Cook quesadillas, in batches, for 2 to 3 minutes per side or until golden brown and cheese melts. Cut each quesadilla into three wedges. Serve with avocado and pea guacamole.