Our Grilled Sizzlin' Jalapeño & Mozzarella Smokies are a sweet and tasty match when paired with orchard fruits from the Okanagan.
Ingredients
1 pkg Grimm's Sizzlin' & Jalapeno Mozzarella Smokies
2 nectarines, halved
12-14 thin slices mozzarella
3 cups arugula
1 tbsp lime juice
1 tsp lemon juice
½ cup mayonnaise
1 garlic clove, minced
1 tbsp + 2 tbsp olive oil
4 each hoagie rolls
salt and pepper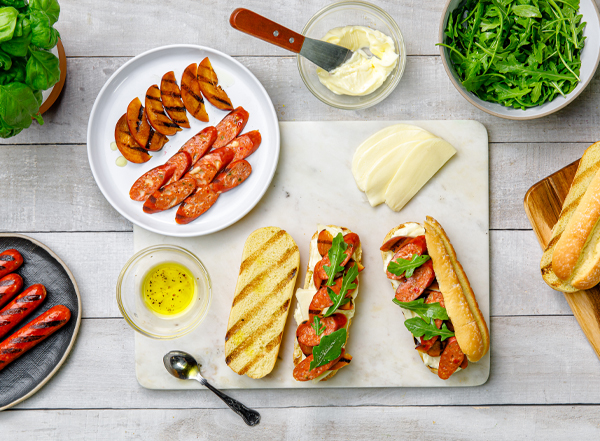 Preparation
Pre-heat grill.
In a small bowl mix garlic with the mayonnaise to create aioli and set aside.
Mix 2 tbsp of olive oil with lemon juice, season with salt and pepper, and set aside.
Toss nectarine with 1 tbsp of olive oil and a little salt. Now place smokies and nectarines on the grill. Char both and make sure to warm through. Lightly toast and warm hoagies on the grill.
Remove smokies, nectarine, and hoagies from the grill. Drizzle lime juice over nectarines and then slice about 1/4" thick. Slice the smokies length wise about ¼" thick, about 3-4 slices per smokie.
Now it's time to assemble. Smear a liberal amount of aioli on the bottom of the hoagie, followed by the smokies, then the mozzarella slices, and then top with the nectarine slices. On top of the nectarines add the arugula and drizzle with the lemon vinaigrette. Finish with aioli on top of hoagie and a little salt and pepper.