Ingredients
​4 Grimm's Spicy Italian Sausages
4 Grimm's Flour Tortillas
1/2 cup kimchi 
1 tbsp peanut or canola oil
2 tbsp unsalted butter
4 large eggs
1/4 tsp coarse salt
1 ripe avocado, sliced or mashed
4 inch length of cucumber, thinly sliced
a few sprigs of cilantro (stems discarded)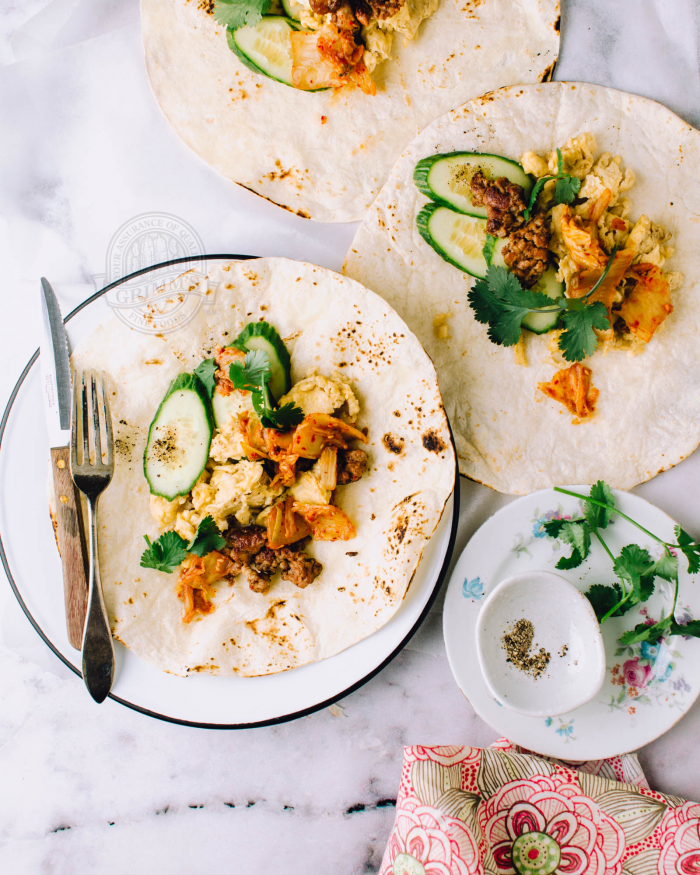 Preparation
Heat oil in a large skillet over medium high heat.
Remove casings from sausages and cook, breaking them up with a spoon, until browned and cooked through about 5 minutes. Transfer to a bowl.
Reduce heat to low and add butter to the same skillet (no need to wipe it out). Whisk eggs with salt and add to pan when butter is melted. Cook eggs, stirring frequently, until just set.
Divide the eggs and sausage between the four tortillas. Top with avocado, cucumber slices, kimchi, and cilantro. Wrap up and serve.