Ingredients
​1/4 Grimm's Kolbassa Sausage Ring sliced into 1/4 inch pieces
1 tbsp extra-virgin olive oil
3 garlic cloves, minced
1 leek, diced (green & white part only)
5 cups low sodium chicken broth
1 bunch kale stems (removed leaves), roughly chopped
10-12 grape tomatoes, halved
1 bay leaf
2 cans white navy bean (or cannellini)
pepper to taste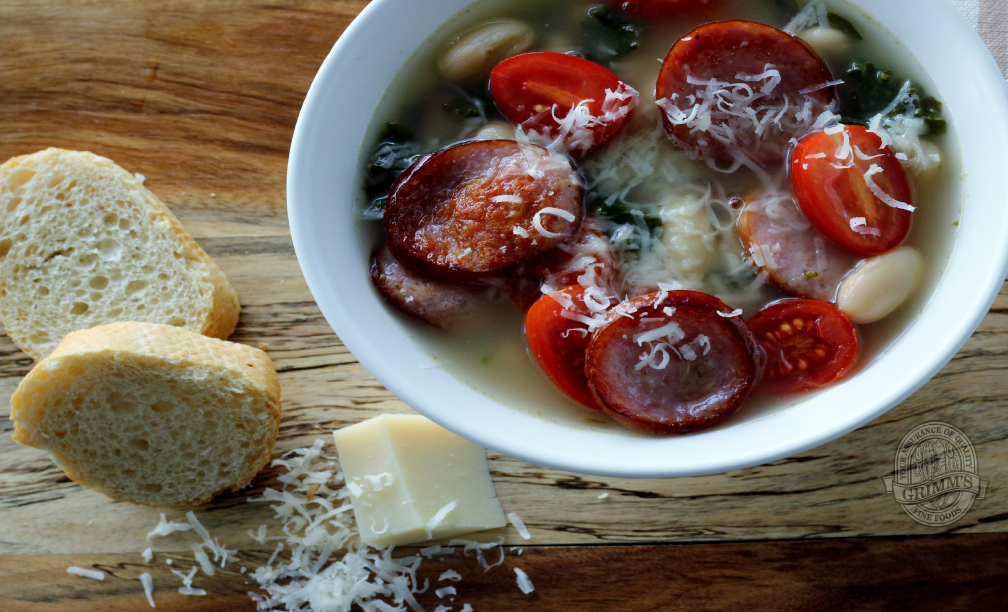 Preparation
Place a large pot on medium heat and heat olive oil.
Place sliced Kolbassa sausage into pan and brown (about 5-7 minutes), set aside on a plate.
Add garlic and leek to the pot, cook until garlic is golden.
Add in 4 cups chicken broth, bay leaf, grape tomatoes, and chopped kale, bring to a boil, then reduce to simmer and cover (about 5 minutes).
Take one can of beans and puree with remaining 1 cup broth.
Once kale is tender, add bean puree and remaining whole beans to the pot.
Stir and simmer for a few minutes, add pepper to taste.
Remove bay leaf, serve in bowls and garnish with freshly grated parmesan.