Ingredients
1 pkg Grimm's Spicy Italian Sausage
2 tbsp olive oil
4-5 garlic cloves, crushed
1 large onion, diced
3 stalks celery, diced
3 carrots, diced
1/2 cup sun-dried tomatoes, chopped
4 cups chicken stock, broth or water
1 tbsp basil (dried leaves)
1 container of semi-dried basil (found in the produce section)
1 can chopped tomatoes drained (796 ml) OR 1 glass container of strained Italian tomatoes
1-2 cans cooked white beans (your preference)
1 bunch Swiss chard, chopped chiffonade style
1/2 jalapeño pepper, diced
2 russet potatoes, chopped
1 zucchini, chopped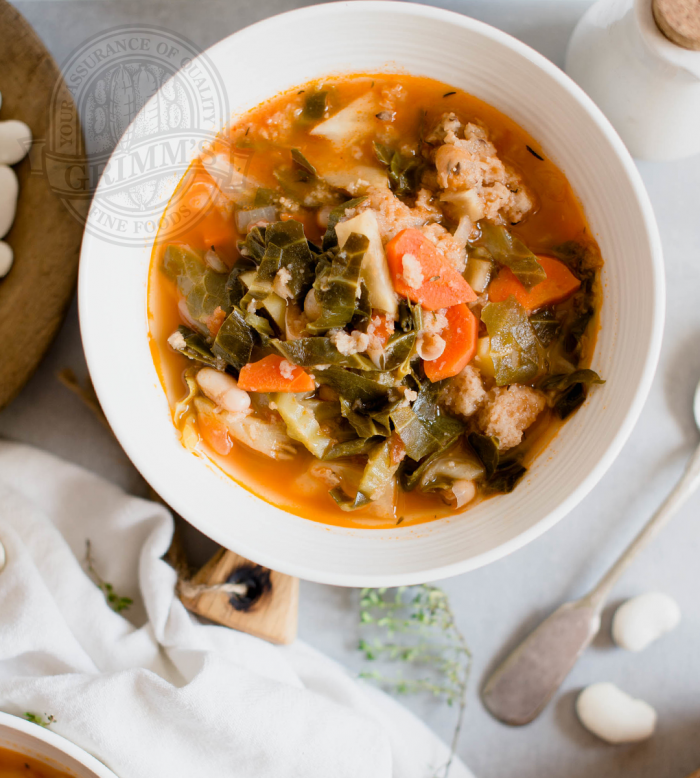 Preparation
Heat olive oil in a soup pot and sauté the onions and garlic until soft.  Add the celery, carrots, sun-dried tomatoes basil, Swiss chard, jalapeño, potato, and zucchini.
Add the chicken stock and a bit of water if necessary to barely cover the veggies.  Cook for 10 minutes.
Add the canned tomatoes, white beans, Grimm's Spicy Italian sausage (squeeze out of the casing and crumble), and season with salt and pepper.  Bring back to boil and reduce the heat. 
Let simmer for at least 1 hour. Serve with parmesan and crusty bread or freeze.