Delicious, Gluten-Free, Dairy-Free, and Paleo, this quick recipe by The Endless Meal is sure to hit the spot.
Ingredients
1 pkg Grimm's Fine Garlic Sausage, sliced into 3/4-inch pieces
4 medium zucchinis, spiralized or sliced with a julienne peeler
1 tsp sea salt
2 tsp olive oil, divided
1 large onion, sliced thick
3 bell peppers, sliced
3 garlic cloves, finely minced
4 Roma tomatoes, diced
1 1/2 tsp paprika
1 tsp oregano
1/2 tsp chili flakes
sea salt, to taste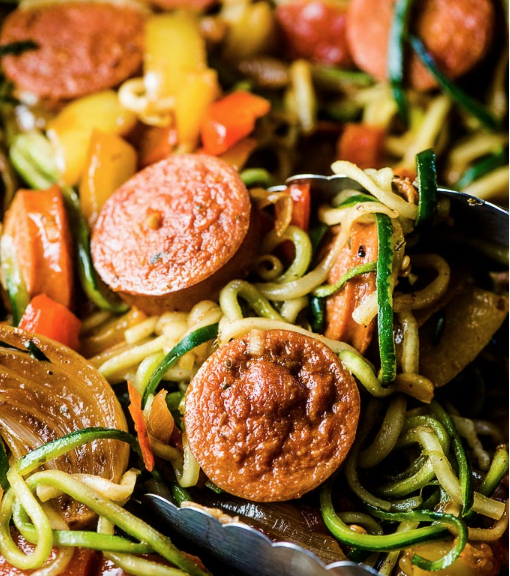 Preparation
Place the zoodles in a large bowl and sprinkle the sea salt over top. Mix them around a little then set them aside.
Heat 1 tsp of the oil in a large skillet over medium high heat. Add the Grimm's Fine Garlic Sausage and cook until brown on both sides, about 5 minutes. Remove the sausage from the pan and increase to high heat.
Add the remaining teaspoon of oil, the onions, peppers, and garlic and cook until the onions are translucent, about 5 minutes. Add the tomatoes, paprika, oregano, and chilli flakes to the pan and cook until the tomatoes are soft, about 5 minutes. Add the sausage back into the pan and season with salt, if needed.
Rinse the zoodles well under warm tap water. You want to remove all the salt. Ring the zoodles dry with your hands then add them to the pan. Toss and heat through before serving.